The 5 Best New Year's Breaks to Kick Your 2018 off Right
Believe it or not, another year is coming to a close, and, before we know it, we'll be ringing in 2018. If you're itching to take one last adventure before the year is through, or if you're seeking a destination to begin 2018 with a bang, these five destinations are perfect for New Year's and beyond.
Where will you be when the clock strikes midnight? (photo credit)
Madrid, Spain
Madrid's nightlife is incomparable year round, so imagine how vibrant Spain's capital becomes on New Year's Eve. Known in Spanish as Nochevieja, New Year's Eve has something for everyone in Madrid. The festivities center around the major plaza known as Puerta del Sol, where tens of thousands of people pop grapes into their mouths for each chime of the clock and then break out the sparkling cava. Spaniards party the night away all year, so head to one of Madrid's countless bars or clubs to keep the party going until dawn. And don't forget the late night churros con chocolate!
Madrid's warm winter climate compared to most of Europe makes it a great destination to start your 2018 travels. Explore its renowned art museums, including the Prado and the Reina Sofia. Get lost in the winding, cobblestone streets. Taste tapas and sip on wine at a sidewalk café. Relax in Madrid's huge central park, Retiro. Take a day trip to the nearby towns of Toledo and Segovia, or find cheap last minute hotels there if you aren't ready to return after a day. To start 2018 on the right foot, there are few better places in the world to visit than Madrid.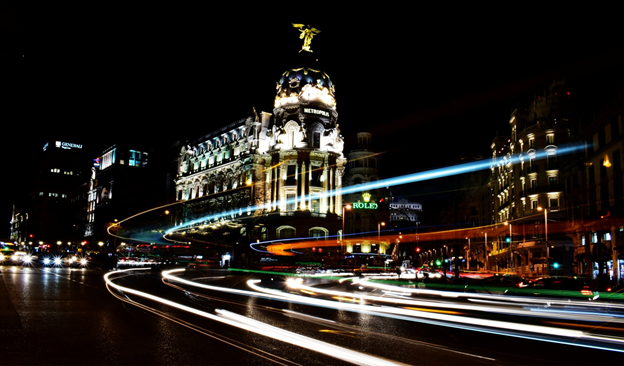 Madrid: a vibrant city to kick off 2018. (photo credit)
Edinburgh, Scotland
For the Scottish, the last day of the year isn't just New Year's Eve: it's Hogmanay, one of the best celebrations of the year. Visit Edinburgh for four days of Hogmanay processions, concerts, and fireworks. Experience a traditional Scottish cèilidh under Edinburgh Castle, complete with folk music and dancing. If you aren't too hungover on New Year's Day, be sure to check out the Stoats Loony Dook in nearby South Queensferry, a parade that ends with its participants diving into a freezing river. Very loony indeed.
Edinburgh is a fabulous city year-round, so it's well worth a visit any time in 2018. Learn about the city's history at Edinburgh Castle, join one of many spooky ghost tours, or admire the views from Calton Hill. Take a day trip to the Scottish Highlands, and see if you can spot the Loch Ness Monster. If the weather outside is frightful, cozy up in one of Edinburgh's many pubs and enjoy a glass of whiskey or a pint of ale.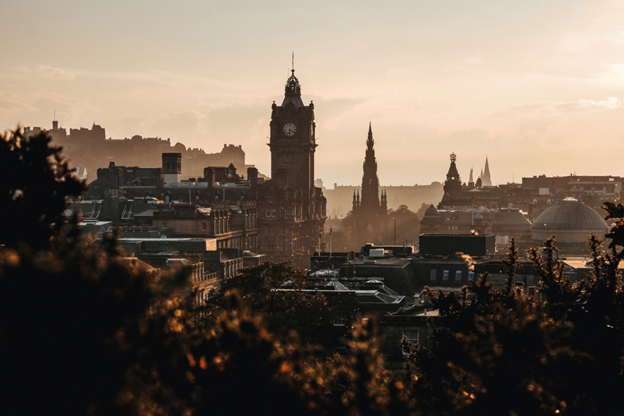 Edinburgh's view from Calton Hill (photo credit)
Sydney, Australia
When it comes to New Year's Eve, Sydney truly knows how to put on a show. The city hosts an annual fireworks spectacular over Sydney Harbour, lighting up the iconic Sydney Opera House and Sydney Harbour Bridge. The show is attended by over one and a half million people and viewed by over one billion on television, so why not join in the festivities yourself? Be sure to stake out a spot on the water early or book a seat at a harborside bar or restaurant – this is one show you won't want to miss!
If you're heading down under after the New Year's celebrations subside, you'll be arriving right in the heart of summer. The city's beaches are even more tantalizing this time of year, and the warm weather is perfect for embarking on hikes in Sydney's outskirts. Soak in the sun on a Sydney Harbour cruise, enjoy the magnificent views along the Bondi to Coogee beach walk, or enjoy drinks outside the Sydney Opera House. Sydney is the perfect getaway year round, but no better time to visit than in the Southern Hemisphere's summer.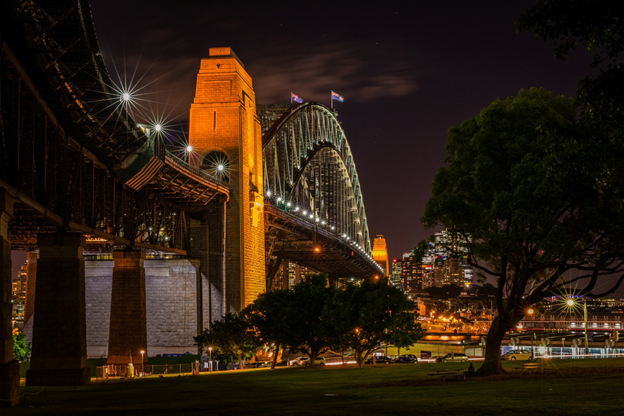 Enjoy fireworks over the iconic Sydney Harbour Bridge. (photo credit)
Valparaíso, Chile
Valparaíso, a coastal city located just an hour and a half from Chile's capital, Santiago, is home to Latin America's largest New Year's Eve celebration. The festivities last from December 28th all the way until New Year's, culminating in a twenty-minute fireworks show launched from seventeen points in Valparaíso and neighboring Viña del Mar. Fireworks are followed by a lively dance party that lasts all night long. If you want to feel like a true Chileno, be sure to join the local New Year's traditions of eating a dozen grapes at midnight, snacking on lentils, putting a thousand peso bill in your shoe, and wearing inside-out yellow underwear!
Beyond the New Year's fun, Valparaíso is a lovely vacation destination year-round. Jump on a funicular to the top of one of the city's various hills, wander its streets, and admire the colorful buildings and street art. Visit Chilean poet Pablo Neruda's home and envy his views of the Pacific. Take a boat tour of the port and head to Viña del Mar to enjoy the beach. Then set out for the rest of Chile to experience 2670 miles of wonder.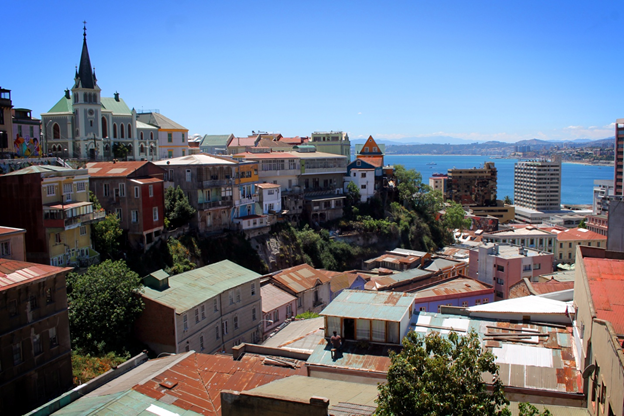 Valparaíso's sunny ocean views. (photo credit)
Reykjavik, Iceland
If you don't mind braving the cold, Reykjavik is one of the best places to ring in the New Year. Although there are no city-sponsored events, locals make the most of the holiday by burning away the year's worries in community bonfires, setting off their own fireworks throughout the city, and partying all night long. Head to Perlan (The Pearl), a landmark dome building and restaurant, to enjoy fantastic views over the city and join one of Iceland's best parties.
Winter may be freezing in Iceland, but prices tend to be cheaper, crowds are usually smaller, and extra hours of darkness mean it's the best time of year to observe the Northern Lights. Rent a car and drive around Iceland's breathtaking scenery. Bundle up for hikes to incredible view points, walk through ice caves, and then warm up by taking a dip in a hot spring. Iceland is truly an unforgettable place to kick off your 2018.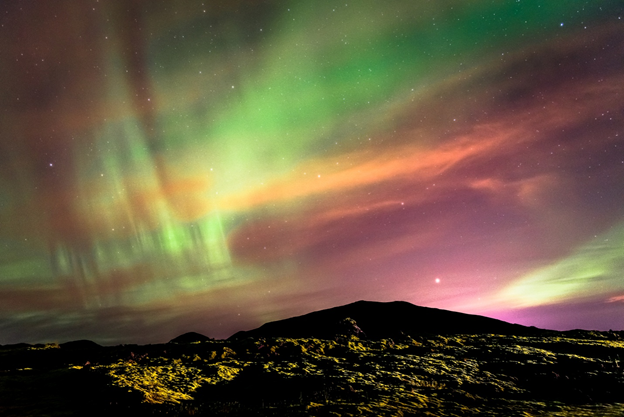 Follow up your fireworks show with an even more impressive natural light show. (photo credit)
Whether you're hoping to watch the clock strike midnight overseas or are eager to start planning your travels for the next year, these five destinations are absolute must-sees. Hoping you had a wonderful 2017 and wishing you many memorable journeys in 2018!
………………………………………………………………….
Author Bio: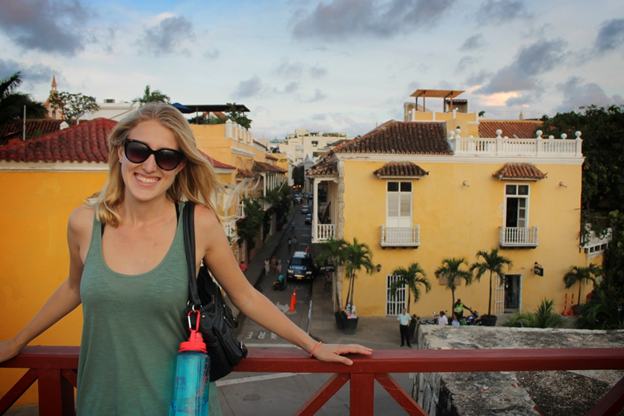 Kirstie Jeffries is a travel blogger and digital marketer from Pasadena, California who has seen 72 countries and counting. She lived and worked in Madrid and Sevilla, Spain and Sydney, Australia before embarking on a round-the-world adventure, which she blogs about at Venga, Vale, Vamos. Kirstie currently works as an independent digital marketing specialist.
http://www.travelpleasing.com/5-best-new-years-breaks-to-kick-your-2018-off-right/
http://www.travelpleasing.com/wp-content/uploads/2017/12/unplash.png
http://www.travelpleasing.com/wp-content/uploads/2017/12/unplash-150x150.png
Vacation Ideas
Believe it or not, another year is coming to a close, and, before we know it, we'll be ringing in 2018. If you're itching to take one last adventure before the year is through, or if you're seeking a destination to begin 2018 with a bang, these five destinations...
Travel Pleasing
Travel
Pleasing
travelpleasing@gmail.com
Administrator
Travel Pleasing